When choosing the ideal place to lay your head while traveling, whether for business or pleasure, options have dramatically changed. This is especially true over the last 10 years as we've moved away from your father's Howard Johnson. While traditional lodging experiences by well-known hospitality brands such as Hyatt and Marriott remain popular, startups hoping to disrupt the space are finding ways to ride the wave of home rental alternatives while still incorporating that personalized touch so many travelers have come to know and love.
It's true that concepts like Airbnb have changed the way people think about lodging, but home-hotel hybrids are making their mark and we're seeing the rise of the best of both worlds.
The best hybrid options
It's true that customers want what they want. As a result, new hybrid concepts, seeking to blend a home rental nuance with access to highly-trained staff, include companies like Sonder. As its website indicates, Sonder offers the consistency and service of a great hotel combined with the warmth and comfort of staying in a space that feels more like a home. Locations are sprinkled across several major North American and European cities. There are no individual hosts, but the company maintains each space that's akin to someone's nicely appointed home in some of the best neighborhoods. Sonder was established after the two founders were caught in a tricky travel situation. Using a popular home rental platform, the two had trouble getting in touch with their host to remedy a check-in problem. When they were finally able to locate the host and check in, they found the apartment less than ideal.
Sonder is very turnkey, providing spaces that are reminiscent of home but with access to highly-trained customer service staff 24/7. The spaces themselves are high-end rentals or vacation homes that come with concierge services, making traveling much easier for the business or leisure traveler. If guests are wondering if Sonder will be around for a while, they shouldn't worry, as the company has raised $135 million in capital, positioning it as a fast riser in the blended hospitality space.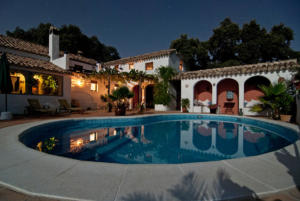 Sonder isn't the only concept attempting to offer rentals with better service. Marriot International announced their own luxury home rental concept in April 2019 as a way to attract those travelers leaning toward home-like lodging. The Homes and Villas by Marriott International concept provides high-end homes in exclusive locales in 100 domestic and international markets. Guests are provided with a professionally-cleaned home, premium linens and amenities, family-friendly conveniences upon request, high-speed Wi-Fi and 24/7 support. The new Marriott concept takes guests out of the hotel while still providing access to exceptional amenities and highly-trained staff.
In addition to Sonder and Marriott concepts, boutique apart-hotels (yes, that is actually a thing) have carved out a niche in the lodging-hospitality space. The concept is essentially what it sounds like; it's half-apartment, half-hotel. It's unique and not at all generic like many traditional hotels. Boutique apart-hotels are for the long or short-term traveler who wants to stay somewhere unique and photo-worthy. While many boutique apart-hotels provide top-notch service and personalized amenities, it's often not about the room service or the concierge – although that is often the cherry on top. It's more about the ability to be comfortable in a stylish space with the ability to make your own breakfast or watch your favorite TV show. For those who do need assistance, staff is available to provide virtually anything the traveler needs, very much like a traditional hotel.
Why it's the best of both worlds
Home-hotel hybrid options are hoping to successfully meet the demand companies like Airbnb have cultivated. Sonder, Homes and Villas by Marriott International and boutique apart-hotels provide flexible, home-like, local experiences while also offering the customer service many travelers don't want to do without.
The hybrid market should continue to grow and morph in the coming years as newer concepts arise. The opportunity for potential staff is that these unique lodging experiences will likely create completely new engagement models and offer creative ways to provide service to travelers. As we've seen in the last few years, yesterday's standard will not be tomorrow's norm. The question is whether companies can properly ride the wave and deliver the best of both worlds.