Historically, good customer service was delivered in person, over the phone or via reliable correspondence such as printed letter or email. Customers were satisfied with these expectations and believed they could interact with product or service providers easily in order to have questions answered or resolve issues. Today, these methods are joined by a host of other customer contact options, including chat bots, automated phone solutions and social media.
With the alternatives provided by technology, customer service choice can be just a click away.
In our current environment, some companies rely heavily on technology to interact with their customers. This was always inevitable, but some company's dependence on technology has been at the expense of appropriately engaging with their customers. In other words, technology, along with ample availability of and interaction with highly trained staff, is the right mix in our quickly advancing age of Artificial Intelligence and automation.
Someone cares about the customer
With continued attention given to delivering exceptional customer service, retention is ultimately the objective and ensuring that a real human actually cares about the customer is what's necessary. Customers don't want to be viewed as statistics and sources of revenue. They want to be viewed as a real people with real needs specific to themselves, their families and their business/employer.
While much attention has been given on the technology and benefits of providing multiple channels for customer contact, enough consideration must be given to the human part of the equation. Properly training staff, whether they be in sales, support or customer service, and making them easily available to customers is a good balance between technology and live people. Granted, not everyone wants to talk to a real person. In these cases, technology and automation is ideal, but when a customer needs empathy, providing a live person is paramount.
Relationships matter
Good companies understand the need for customer retention. It's significantly more costly to gain a new customer than it is to retain an existing one. In order to keep an existing one, a relationship must be developed. Customers love making an emotional connection with whomever they're buying from. That connection reinforces the notion that the customer is making a good decision and the person they've interacted with, whether during the first sale or in a support function after the purchase, can help to reiterate that notion. It is safe to say that a customer can still use technology and live personnel. If there are simple questions that can be answered about a purchase or an account, a chat bot should be able to handle the query and do it in a way that is usually must faster than waiting on the phone for a live person. The balance of the two is what more customers want, and customers love choice.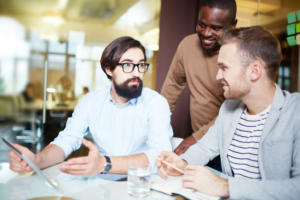 Customers love choices
With increased buying options and advanced technology come more choices. Those choices include giving customers the option to use automated technology or to speak to a live person.
If all a customer wants are the facts (and some do), they could retrieve the information online via a portal, chatbots or using an automated phone system. But when customers want human interaction, companies that desire customer retention must provide options to speak to a live person. It seems that some companies go out of their way to hide the option to speak with a liver person or make it so complicated, customers are forced to use automation. It's understandable that using automation can be significantly less expensive than employing a bank of live people to field calls. But, when done strategically and allowing the customer to make the decision themselves, a proper balance can be achieved that leverages low-cost technology solutions while also providing a live person when needed. If customer retention is preferred over finding new customers, then choice must be provided.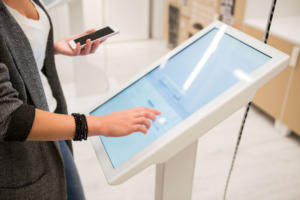 Technology Provides Data to Service Staff
Technology offers the capability of providing critical customer data to sales and service personnel. While individuals can take notes, enter the data into the system and allow it to populate through the company, the latest technology around portals, chat bots and automation allows for virtually instantaneous data to be provided to customer-facing staff in an instant. Alone, that data means nothing, but in the hands of an empathetic, emotionally connected staff member, it can be the difference between declining revenue and record sales.
Going forward, only those companies that properly leveraging technology with the deft application of human touch from highly trained personnel at critical touchpoints will retain the most customers and emerge winners in an increasingly demanding marketplace.